Salmon Salad Protein Wrap Recipe
By Dana Angelo White, R.D.N.
November 09, 2023
Try some tasty seafood on a budget! This nutritious salmon salad will quickly become a lunchtime favorite. Make the filling ahead to pile on salad or roll into a wrap for a quick and easy lunch.
Canned salmon is one of the most underrated and affordable protein sources you can find. Plus, it's one of the best ways to eat more omega-3 fats. These healthy fats are important for brain development during pregnancy and chest/breastfeeding; they also promote healthy skin, vision, and circulation.
Salmon is also a low-mercury fish, which means it's safe to eat while you're pregnant or nursing. It's recommended that pregnant people eat two to three servings of low-mercury seafood each week.
This recipe is: dairy free, pescatarian (contains fish)
Start to finish: 5 minutes
Serves 1
Ingredients:
5-ounce can salmon, drained*
1 tablespoon light mayonnaise
Juice of ½ lemon*
¼ cup chopped celery*
1 tablespoon chopped, fresh dill
⅛ teaspoon kosher salt
Black pepper to taste
8-inch whole-grain tortilla*
In a medium bowl, combine the salmon, mayo, lemon juice, celery, and dill. Season with salt and pepper and mix gently to combine. Scoop into a whole-grain tortilla. You may also add mixed greens or any other vegetables you like.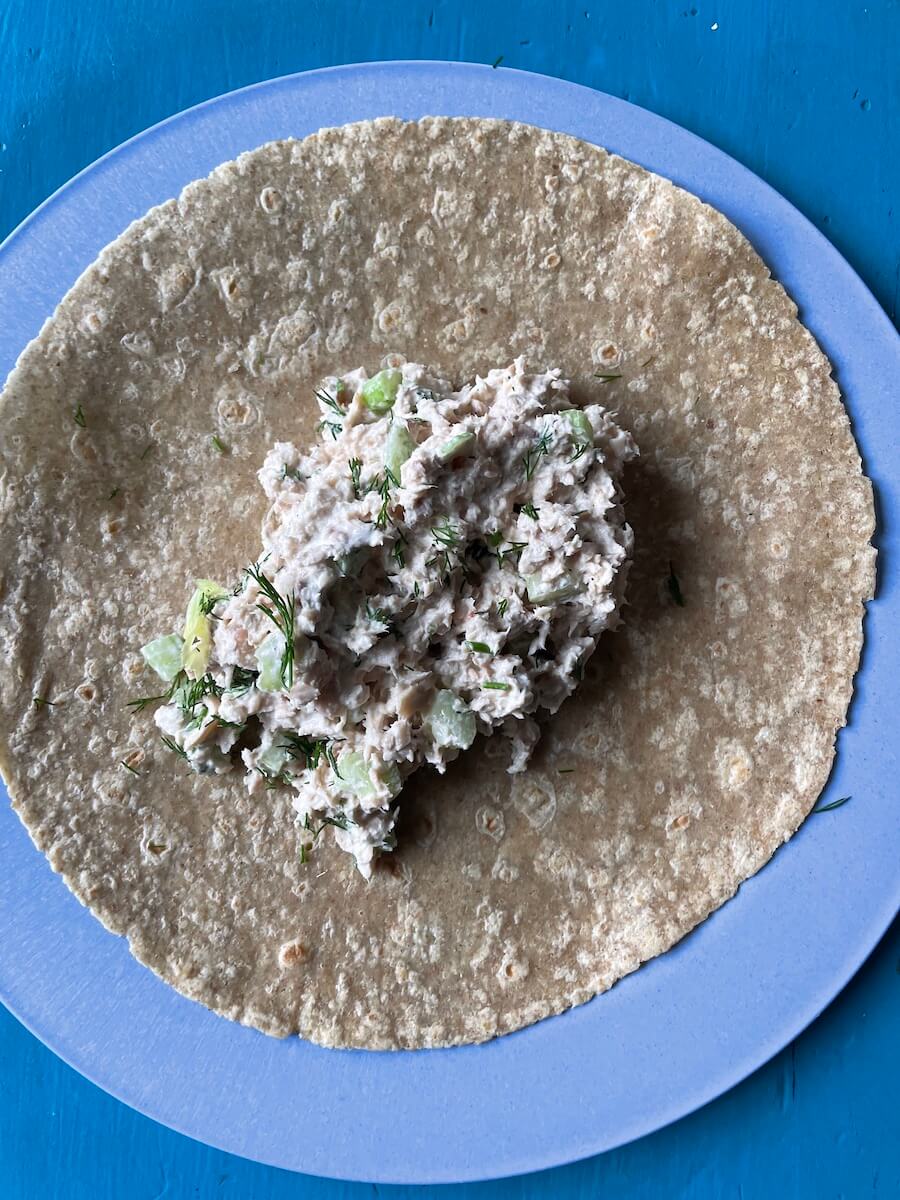 Roll the tortilla into a wrap and enjoy.
Nutrition per serving: 352 calories; 17 g fat (3 g saturated fat); 92 mg cholesterol; 887 mg sodium; 25 g carbohydrate; 3 g fiber; 2 g sugar (0 grams added sugar); 30 g protein.
Price per serving: About $3.02
*WIC-eligible ingredient
You May Also Like:
Want to Read More?
Access all of Twill Care's content, community, and experts for free!
Already a member? Login
Want to Read More?
Access all of Twill Care's content, community, and experts for free!
sign UP For Free
Already a member? Login